Accelerate growth with 1BusinessWorld's Global Business Profile
Sign up for free or use coupon code 1BW50 for 50% discount on your subscription
Sign up now
This Mini 4K Projector Will Change How You Watch Movies | 1BusinessWorld
This Mini 4K Projector Will Change How You Watch Movies | 1BusinessWorld
Stream on a Bigger Screen with this Portable Gadget Image source: https://www.pexels.com/photo/palm-trees-near-projection-screen-during-nighttime-3131...
hubs.ly
This year's 19th Annual Wall Street Green Summit will be taking place from October 5 to October 9, 2020 as a virtual event.

Registration is now open!

https://hubs.ly/H0tfhgN0

#wallstreetgreensummit #sustainability #sustainablefinance #sustainablelife #greenfinance
Twitter feed video.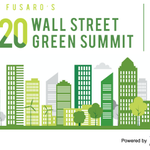 Load More...